I've roamed this world searching for an answer, trying to find the truth they are hiding from us, the politicians puke corruption and cancer, that's why I am now ''SET TO REVOLT'' !!!
Danny deVil
New single and video STENTORIAN VOICE! Out on 07.07.2023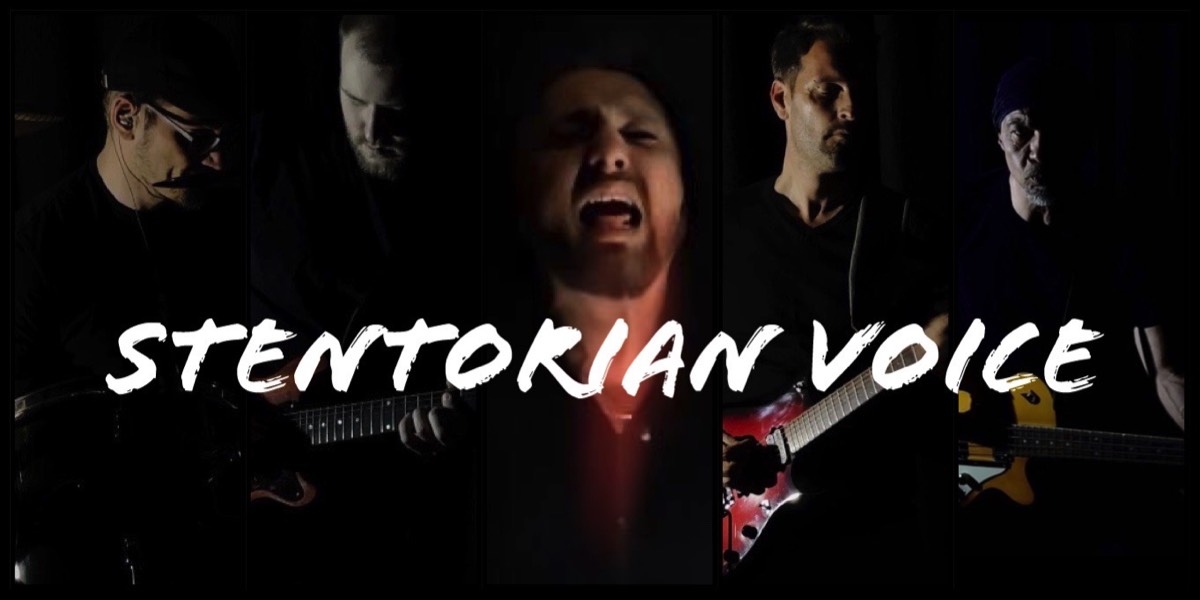 Set to Revolt: A Dynamic Heavy Rock Revelation in "Stentorian Voice"
July 27, 2023 by
v1nylm@tt
"Stentorian Voice" by Set to Revolt is a track that immediately grabs your attention with its driving bass and funky drum beat, setting the stage for a captivating rock journey. The guitar enters with a powerful presence, accompanied by occasional string pads that add depth and atmosphere to the arrangement.
The vocals blend seamlessly with the instrumental backdrop, and there's a hint of Bono-like qualities in the delivery, lending a touch of intensity to the song. As the track progresses, a rising picked guitar pattern exudes a James Bond style, evoking images of espionage and intrigue.
However, just when you think you've got the track figured out, it takes an unexpected turn. In the latter part of the song, the guitars take on a Metallica-like edge, unleashing a metal powerhouse that adds a whole new dimension to the composition. The fusion of rock and metal elements brings an exhilarating climax to "Stentorian Voice," leaving a lasting impression.
The song's final chorus at 4:37 is a standout moment, where strings and brass instruments blend seamlessly with the energetic bass and powerful vocals. The orchestral and choir-like Chorus with violins and trombones creates a grand finale that is both dramatic and captivating.
"Stentorian Voice" tells a powerful story of breaking free from a toxic relationship and embracing strength and self-empowerment. The lyrics resonate with themes of change, inner restlessness, and the need for liberation. Set to Revolt's expressive and passionate style shines through in their music, where they tackle topics like life, death, love, hate, and engage in thought-provoking political discussions.
SET TO REVOLT hails from Stuttgart, and their powerful, dynamic, and versatile form of Heavy Rock leaves a lasting impact. They skillfully blend uptempo riffs with passionate radio hooks, creating a musical experience that stirs emotions and leaves listeners yearning for more.
SET TO REVOLT
SET TO REVOLT - Stentorian voice
SET TO REVOLT

live im Vier Peh

am Freitag, 24.11.2023,
ab ca. 20:00Uhr
Abendkasse: Auf Musikerhut
4peh live concert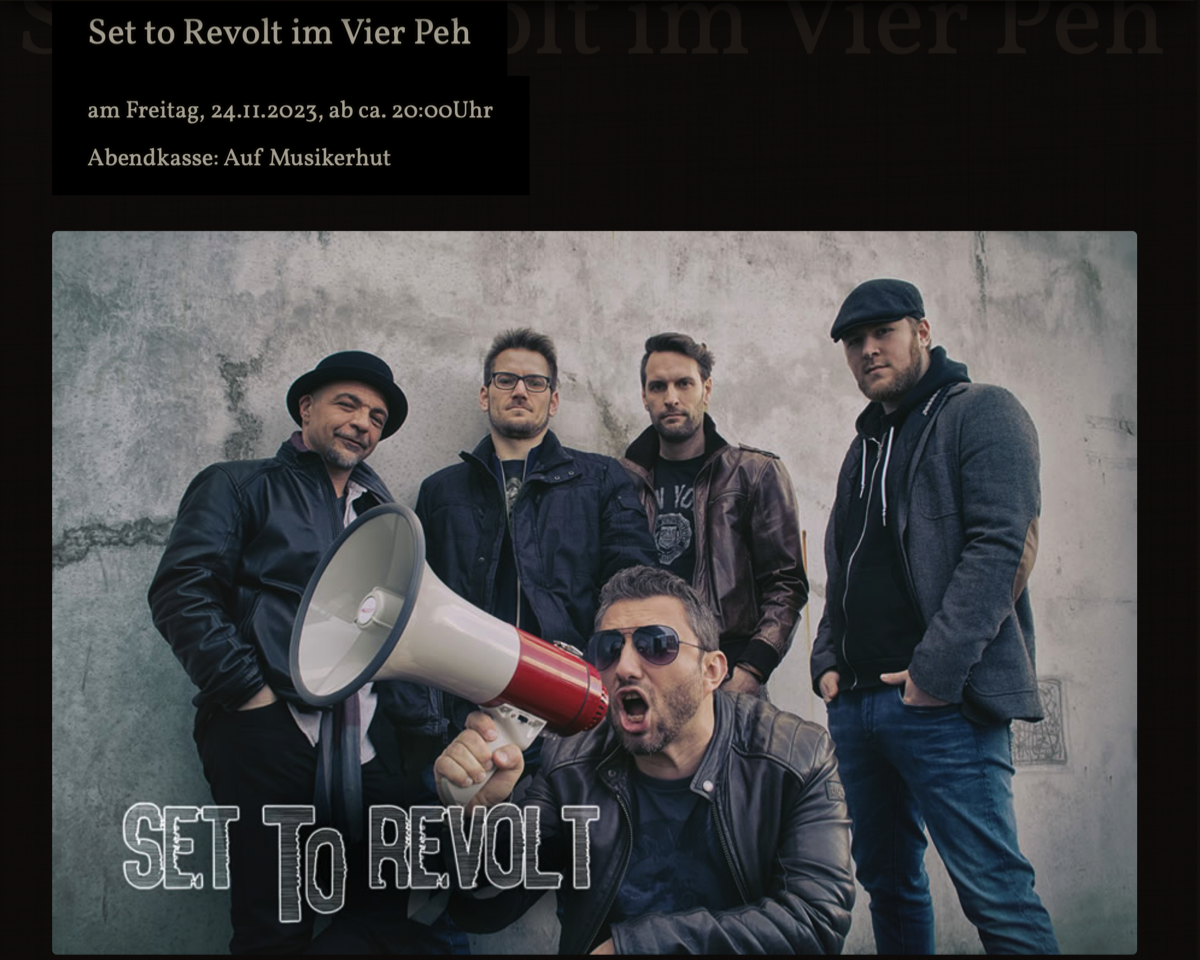 SET TO REVOLT
play a powerful, dynamic and versatile form of Heavy Rock. Uptempo
riffs with powerful vocals follow passionate radio hooks. In their music the band from
Stuttgart describes the inner restlessness, the need for change and the dissatisfaction in everybody, that ́s only waiting to be released. Topics like life and death, love and hate and political discussions have a great impact on their lyrics and music.



We are the architects of our own destruction, the path that leads to the human disruption. A world without humans, a world without gods!
Danny deVil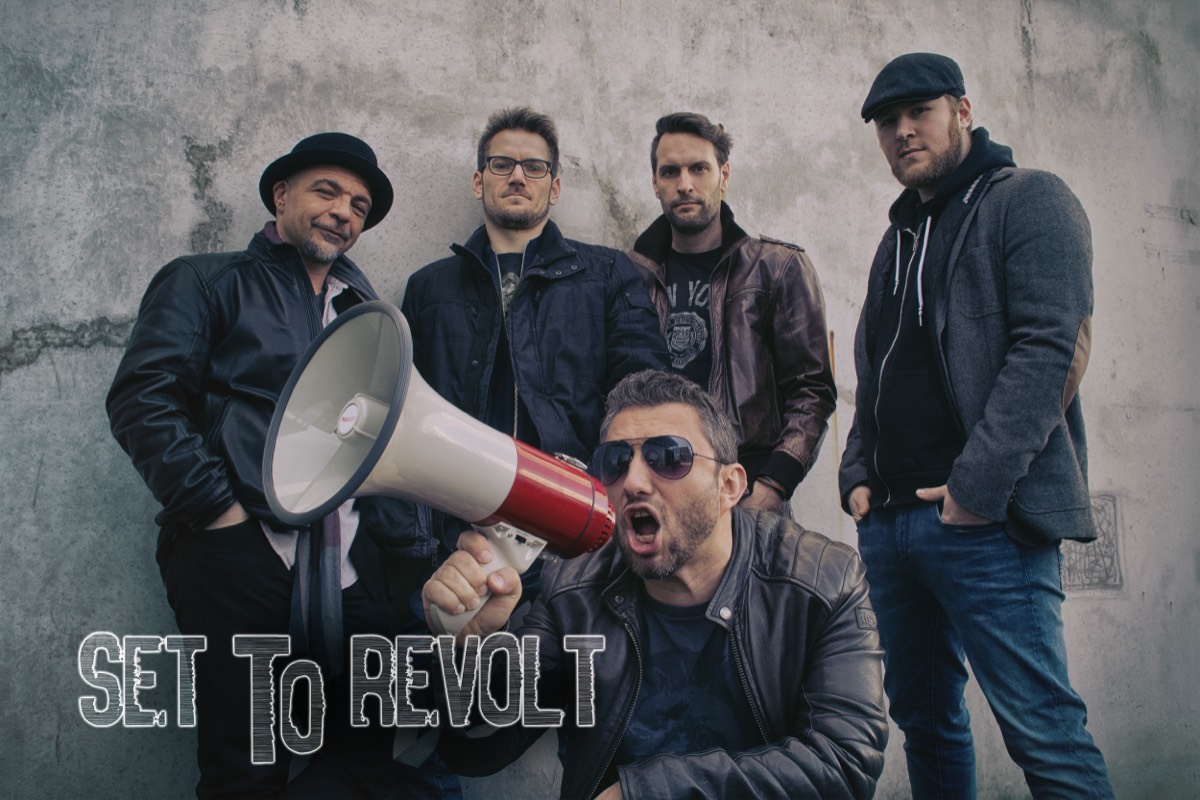 Distortion of reality, you can plant all your evil seeds in me. It will not grow into your misery, we want to fight, fight for freedom.
Danny deVil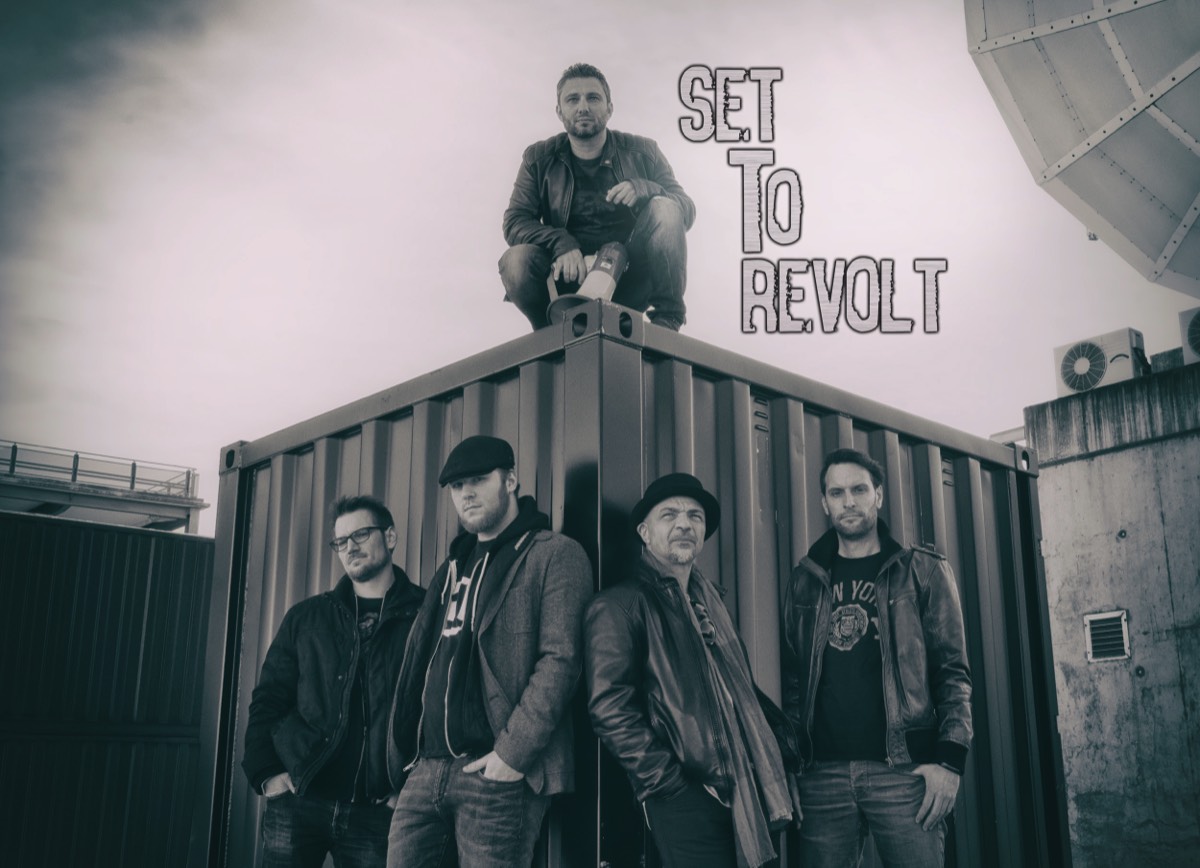 We are living in a sick world, trying to make it beautiful.
Danny deVil